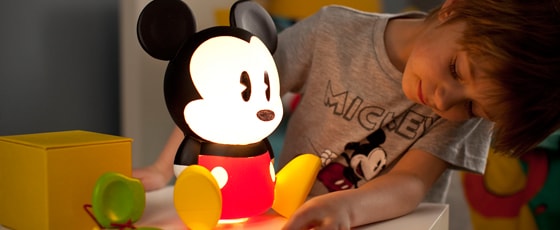 Amsterdam, The Netherlands – Royal Philips (NYSE: PHG, AEX: PHIA) today announced the creation of a portfolio of innovative, inspiring and playful lighting products designed to bring the Disney magic to life for kids and families through lighting.

Combining Philips' expertise in lighting with Disney's beloved characters will harness the power of light to make children's bedrooms a more imaginative place for them to read, play and sleep. It represents the latest achievement in Philips' journey to transform the home lighting experience and make it digital.
The products will be co-branded and sold through a variety of complementary Philips and Disney retail channels starting in Europe and the US from September, with Asia and Canada to follow later this year.
The Philips Disney portfolio range includes breakthrough concepts in connected lighting that allows children to interact with Disney stories and characters. The revolutionary connected lighting concept allows children and parents to connect e-books with their lighting to interactively create a magical lighting experience that makes reading more fun and allows families to become fully immersed in the story. The range also includes lights featuring 'light that comforts', such as nightlights that emit a gentle glow, to products designed to help promote a regular sleep pattern for children by letting them know when it's time to get up.  
"With innovation and inspiration at its core, this collaboration fuses Disney's unrivalled ability to create characters and stories that spark the imagination of children of all ages with our lighting innovation leadership. Together, we will deliver an exciting portfolio of advanced and interactive lighting solutions that the whole family can enjoy," commented StoryLight and Mickey starter kit - Mickey Mouse-shaped light cleverly synchronises coloured light with classic Disney stories read through an interactive e-book on an iPad, perfect for story time.
SoftPals and Sulley and Mike from Monsters Inc., classic Mickey and Minnie Mouse - the perfect night time friends are key for setting rituals such as story time and getting your children in to the habit of sleeping through the night.
LivingColors Micro lamps and Cars, Planes, Princess and Ariel - with 64 colours to choose from, they can transform almost any imagined playground.